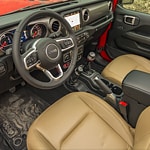 Do you love to feel connected with the outside world as you drive? In the Jeep Wrangler, that's an easy task. With its unique open-air features, this popular compact SUV helps you feel the breeze wherever you go in Council Grove, KS.
Let the air flow through the cabin of the Wrangler in minutes when you choose a model with a removable side rear window. Just lift the unit out of the frame and stow it in the back, and you have plenty of cooling air.
When the summer sun is at its highest, take the airflow to the next level by removing or lowering the Wrangler's top. Choose from both power and manual soft tops or go with one of two different removable hardtops. Each option makes it easy to open the roof for the classic Wrangler experience. To see which option you like best, schedule a test drive at Bolton Chrysler Dodge Ram Jeep.