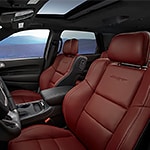 While there are a large number of mid-size SUV's on the market today, one of the more notable and popular ones available is the Dodge Durango. The Durango is available for drivers in any one of several different pre-created feature packages.
These feature packages make the process of customizing the Durango to your needs simpler since you need only decide which of the options best suits both your budget and your driving needs. One of the packages available is called the Blacktop. This package utilizes glossy black as a secondary color, with wheels, mirrors, and exterior badges all matching in color. Another popular feature package is the Brass Monkey, which keeps the black badges, but changes the wheels to a bronze color, matching the name of the package.
If the Dodge Durango sounds like it could be the right car for you, come on down and visit us at Bolton Chrysler Dodge Ram Jeep. We are located conveniently in Council Grove, KS, and our helpful staff can assist you by answering any questions you may have, and will gladly help you get set up with a test drive.