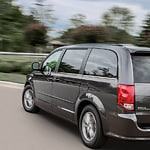 The Dodge Grand Caravan continues to be one of the most popular minivans on the road today. That's due to the fact that Dodge set out to make the Grand Caravan look great, offer lots of space, and keep all passengers safe. That commitment to excellence starts with the exterior of the vehicle. Here are two of the top exterior features of the Dodge Grand Caravan.
If you ever drive at night, then you know that having powerful headlights are important. The Dodge Grand Caravan comes with a powerful set of quad halogen headlamps to help you see the entire road at night. During especially challenging conditions, the Grand Caravan can also be equipped with LED fog lights.
They compliment the advanced lighting set at the front of the vehicle, the Dodge Grand Caravan also comes with a powerful set of LED taillights.