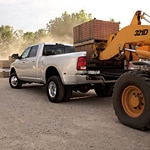 Touching on some of the exterior features of the Ram 3500 can lead you to see some of the amazing details that the designers behind this vehicle have put into it. For example, there are heated mirrors with spotlights. This means that they are resistant to weather conditions and can provide great visibility no matter what is going on outside.
In addition to that, there are fifteen different wheel designs that one may choose from. That is important because it means that you can always select just what you want out of your vehicle at all times.
The tailgate on the Ram 3500 is one of the features most often spotlighted as it is just so easy to use. People have noted that it can be moved up or down as necessary by simply hitting the button on the key fob twice to make that happen. That is what you want in your vehicle.